Synthesis of Nickel complex of N,N-diethyl-N'-naphthoylacylchalcogoureatonickel(II) complexes as single source precursors from heteroleptic mixed ligands and nickel(II) salt for deposition of ternary thin films of nickel chalcogenide via AACVD
Keywords:
nickel selenide, nickel sulfide, thin films, chemical vapor deposition, acyl thiourea
Abstract
The mixed selenothioacylchalcogoureato with nickel (II) salt (N, N –diethyl-N'-naphthoylselenoureato) (N''N''-diethyl-N'''-naphthoylthioureato) nickel (II) using the mixed ligands and nickel(II) were prepared and characterized by elemental analysis, spectroscopic methods and single crystal X – ray method. Thermogravimetric analysis of the complex 2a showed single step decomposition with weight losses occurring between 244.12 °C and 595.04 °C. Compounds 2a was then used as a single - molecular precursor for the deposition of ternary materials NiSxSe1-x thin films through aerosol – assisted chemical vapor deposition. The phase and purity of the as-deposited thin films were confirmed by powdered X-ray diffraction, which showed that the as – grown films were aligned between two phases hexagonal NiSe (ICDD 04-010-3241 and hexagonal NiS (ICDD 04 – 004-4607) only. Morphological studies of the as-deposited films were performed by using field-emission scanning electron microscopy. The elemental composition of the thin films was determined by energy-dispersive X-ray spectroscopy.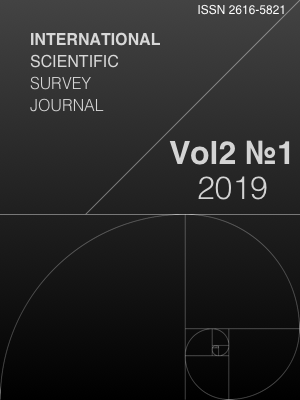 Downloads
How to Cite
Ezenwa, T. E., Obi, J. C., & Obiano, E. C. (2019). Synthesis of Nickel complex of N,N-diethyl-N'-naphthoylacylchalcogoureatonickel(II) complexes as single source precursors from heteroleptic mixed ligands and nickel(II) salt for deposition of ternary thin films of nickel chalcogenide via AACVD. International Scientific Survey Journal, 2(1). Retrieved from https://syniutajournals.com/index.php/ISSJ/article/view/54