Proximity as a Kind of Non-Verbal Communication
Keywords:
proximity, nonverbal communication, communicative process, verbal proximity
Abstract
The article focuses on the problem of proximity as a kind of non-verbal communication. The concept of proximity is considered in the problem key in order to systematize the opinions of scientists about the semantic field of this term and to distinguish its universal, normative characteristics. The modern domestic and foreign works on proxemic issues are analyzed and systematized. The contradictions that exist when considering the topic are identified. Following the foreign researchers of proxemic and non-verbal communication in general, the concept of "virtual proximity" is innovative for the national scientific thought, whose hinge is communication, which is mediated not by physical closeness, the community of spatial-temporal, tactile, cultural-geographical and other tangible characteristics, but by communication via Internet. Virtual proximity is largely a conceptually new phenomenon of the modern life of the last decades and is crucial for today's peculiarities of communication organization, but it still does not go beyond the archetypal (primary) understanding of proximity, although it changes the current ideas regarding proxemic organization in many moments. As a result, the obtained data of the research are generalized and there are outlined the prospects for the development of this problem on this basis.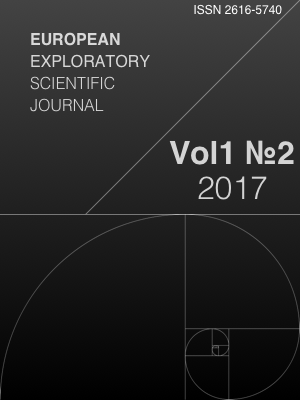 Downloads
How to Cite
Kuzmenko, A. (2017). Proximity as a Kind of Non-Verbal Communication. European Exploratory Scientific Journal, 1(2). Retrieved from https://syniutajournals.com/index.php/EESJ/article/view/11